This summer choose the Protextrem® sun protection product that suits you best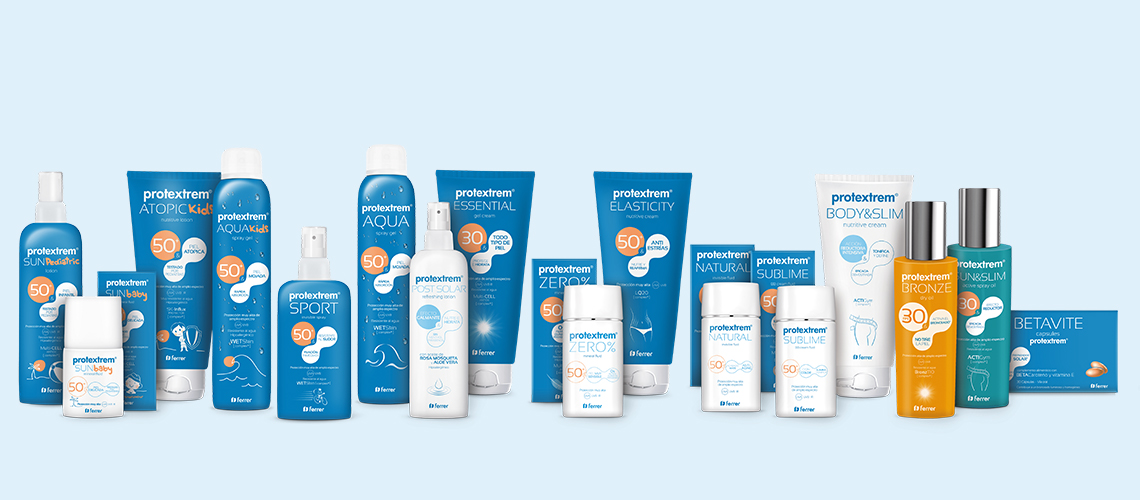 Everyone is different, and so are our skins, and everyone has different skin care needs, depending on our requirements. That's why Protextrem® offers a wide range of products to protect skin from the sun to suit the needs of each situation.
For example, if you plan to spend the whole summer in the water, AQUA is the sunscreen for you, because it protects wet skin and is quickly absorbed. If you've got children, AQUA KIDS has been designed specifically for their skin.
Protextrem® also offers products for skins that need extra special care like sensitive skin, atopic skin or allergy-prone skin. Protextrem® has developed ZERO%, a mineral sunscreen that offers cell multiprotection, boosting cell repair and defence systems, with no chemical filters or perfumes and ATOPIC KIDS, an extra-nourishing lotion for children that protects and repairs atopic skin.
Another situation in which your skin may need special care is if you are pregnant. In this case you can choose MAMMY, a nourishing, anti-stretch mark lotion that prevents blemishes while nourishing and firming the skin. And if you've already had your baby, Protextrem® also offers baby's first sunscreen, SUNBABY.
But if what you want this summer, as well as protecting your skin, is to look radiant, you should pick SUN&SLIM, a sunscreen with a reductor effect, or choose from amongst several products such as NATURAL, SUBLIME, BRONZE or BETAVITE.
Anther situation when your skin may be exposed to the sun for prolonged periods, so it is important to remember to protect your skin, is when you are out doing sport. With SPORT sweat is no longer a problem in terms of sunscreen absorption, because Protextrem® guarantees immediate absorption.
And lastly, after spending time in the sun, AFTERSUN will moisturise your skin. The AFTERSUN formula contains rosehip oil, aloe vera and bisabolol, which nourish and soothe the skin after exposure to the sun. It also repairs and regenerates the skin, providing elasticity and softness.
Protextrem® is much more than a sunscreen, it is the sun protection product that adapts to your needs and to your skin. So, have you chosen yours yet for this summer?
---