Cleansing the skin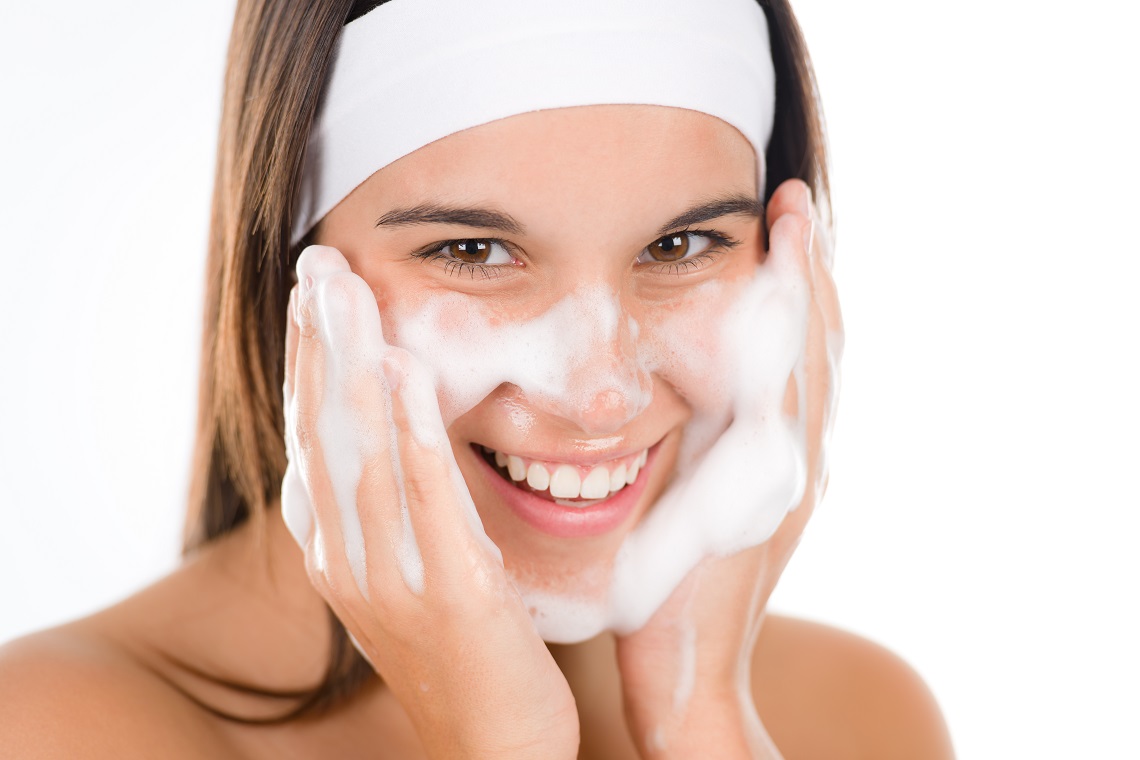 The skin is the largest organ of our bodies and it is important to take care of it. Since the face is not covered by clothing, it is naturally unprotected from the outside world from a range of sources such as UV exposure, humid climate, air conditioning or heating, cigarette smoke and other pollutants. In order for the skin to protect itself from environmental damage, it creates a moisture barrier of an oily substance called sebum. While sebum is beneficial to the skin, it may cause discolouration of the skin, irritation, blockage of skin follicles which leads to acne and a generally unhealthy-looking skin.
The function of cleansers
1. Remove build up
The general understanding of why it is important to wash your face is to remove dirt. Washing your face daily removes impurities and assists skincare products that are applied to the skin after washing your face to penetrate the skin properly. 
2. Boost of hydration
Daily facial cleansing (in combination with a good moisturiser and sun protection) assists in maintaining good levels of hydration in the skin as well as manage pH levels of the skin which in turn enable sufficient water and product retention. Dehydrated skin looks and feels dull, wrinkled and aged.
3. Reduce congestion
While sebum protects the skin from free radicals, if the skin is not washed it can experience an excessive build-up of dirt. This may result in blockages in the fine follicles in the skin, increased pore size, sweat and inactive skin cells. The extreme opposite (lack of sebum), allows for bacteria to penetrate the follicle causing inflammation – the result of the irregular balance of the skin's natural oil barrier protection is acne.
4. Promote blood circulation
Cleansing the skin promotes blood circulation to your face. Good circulation allows the blood to tint your cheeks and give it a naturally pink colour.
Finding the perfect cleanser for your skin
A good cleanser is not the only skincare product that will assist you in achieving a healthy skin, but rather the combination of skincare products. It is also important to consider that the incorrect combination of a good skincare product can cause an undesirable result.
Stripping cleansers leave your skin feeling dry, irritated and sensitised. When this happens, trusting rich moisturisers to restore they hydration seems to be the obvious solution. Typically, stripping the skin of its natural barrier causes the skin to overcompensate by producing more sebum than is healthy.
Rich cleansers can be perceived as a 2-in-1 solution for make-up removal and cleansing, however, they leave a residue that clogs the pores. "Nourishing" cleansers may seem like a great idea to prevent dry skin, but certain ingredients actually make skin even drier by forming a seal that interferes with the skin's natural regeneration process.
Finding a cleanser made easy
The E.X.F.O. cleanse is a gentle cleansing exfoliant, which helps to effectively remove make-up and impurities. Contains specific actives, which assist in loosening rough keratinized cells and therefore is ideal to use in combination with all the pHformula skin resurfacing treatments and is recommended for all skin types.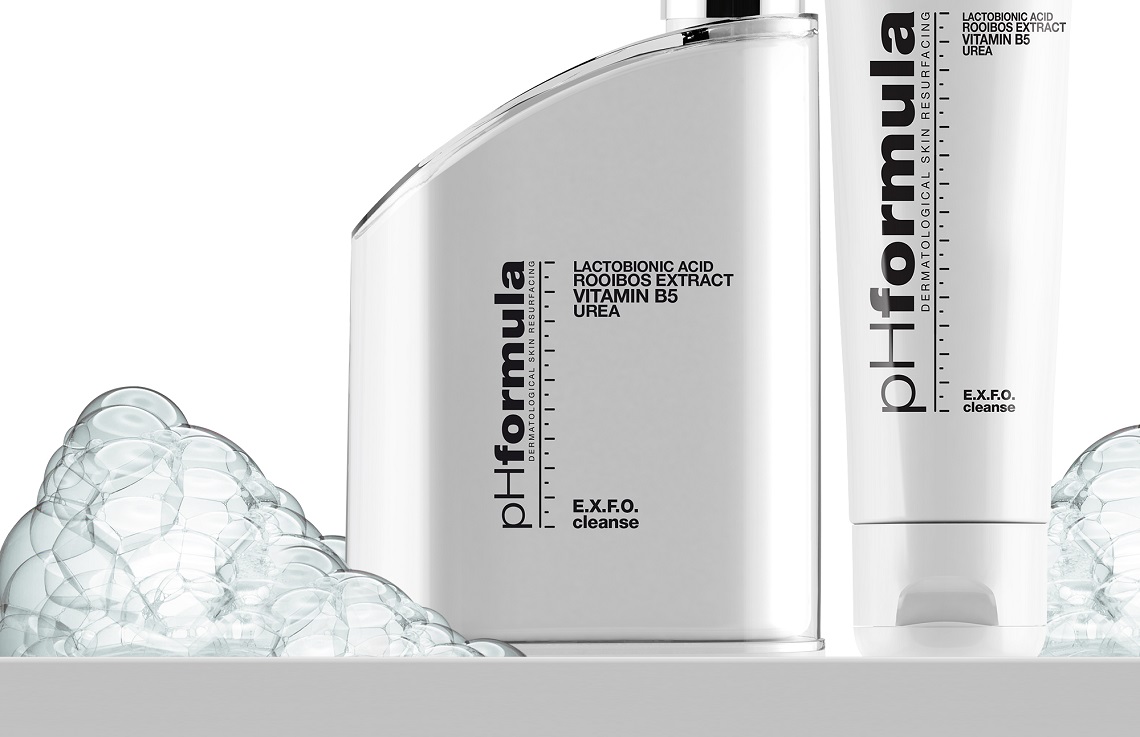 Key active ingredients
– Lactobionic acid – A film forming polyhydroxy acid which has shown to be non-irritating with strong moisturization and water binding properties.
– Rooibos extract – Assists in fighting potent free radical scavengers.
– Vitamin B5 – Contains calming and anti-inflammatory properties and is an excellent hydrating agent.
The FOAM cleanse is a soap-free liquid cleanser that turns into a generous, airy foam for gentle, effective cleansing. The natural blend of plant derived extracts and lactic acid effectively cleanses and removes make-up and impurities while soothing skin and leaving it feeling fresh and hydrated. Ideal for all skin types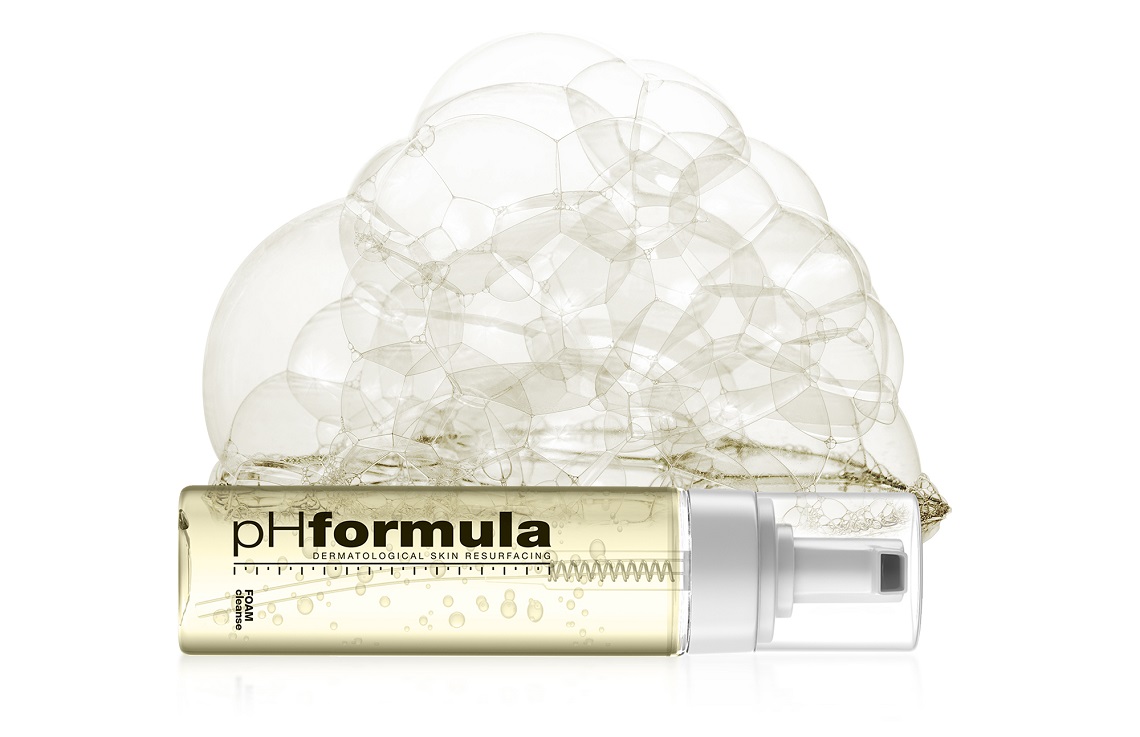 Key active ingredients
– Green tea extract – Powerful antioxidant that helps neutralize harmful free radicals, prevent oxidation, improves skin texture and reduce inflammation.
– Hamamelis virginiana extract – Helps to reduce the sebum excess and tightens skin pores. Its soothing and calming properties make this natural ingredient well tolerated by sensitive skins.
– Lactic acid – Allow easier exfoliation of dead surface cells while hydrating the skin.
Do's & don'ts of cleansing your face
1. Do's
– Cleanse the skin twice daily – Day time cleansing prevents excess oil production and balances overnight oil production; night time cleansing decreases pore size and dehydration while the anti-ageing ingredients work.
– Double cleanse – The first cleanse will remove surface impurities and the second cleanse will penetrate deeper into the skin.
– If you're acne prone or have acne, try leaving your cleanser on for a few minutes before removing it to give the skin a deeper clean.
– Follow your cleanse with treatment products and a moisturizer for your specific skin condition.
– Monitor your skin – Regular consultation with your skincare practitioner is vital as the skin changes from time to time.
– Remember that your daily skincare regime is incomplete until you have applied sun protection.
2. Don'ts
– Don't forget to cleanse the skin twice daily.
– Don't forget to consult your skincare practitioner if you are not sure which cleanser is the best fit for your skin concern.
– Don't use a cleanser that leaves your skin feeling tight or dry – Many of these strip the skin of this natural protective layer.
– Don't use a bar of soap designed for the body to wash your face – Many bar soaps contain harsh detergents and additives that can strip the skin of natural oils, causing breakouts.
– Don't forget to apply sun protection – Even on a cloudy day.
Remember… The sooner you start looking after your skin, the sooner you will see results. It's never too soon to start looking after your skin!
---